Date: 31-Aug-2005 16:43
Author: Robin Garr Email
Subject: TN/WineAdvisor: Campi Flegrei Falanghina
View Parent message

---
Campi Flegrei Falanghina

Here's a favorite Southern Italian grape from a region so obscure that a number of wine-merchant Websites appear to confuse the place name with the producer's name. Let's parse this pretty but somewhat confusing label that adorns a stellar white from the scenic Amalfi Coast, where the stony volcanic soil of Vesuvius and its neighbors tumbles down to the deep blue sea.

Taking the attractive label from the top:

• Falanghina is the grape variety, one that's steeped in history, dating back at least 2,000 years to the Roman Empire. As noted when we last examined Falanghina in the April 6, 2005 Wine Advisor, folks in the region declare that this was the grape used to make Falernum, one of the most highly regarded wines of the Caesars' times. Could be, although it's worth noting that fanciers of the excellent regional grapes Greco di Tufo and Fiano di Avellino make similar claims.

• Campi Flegrei is the region (a "D.O.C." appellation under Italian wine law, "Phlegraean Fields" in English), lying along a stretch of the Amalfi Coast that extends along the Gulf of Naples from the sprawling edge of the city westward. It's one of three regions in Campania where Falanghina is made, the others being Sonnio and the island Procida in the Gulf.

• Villa Carafa is the producer, a family-run operation near the village of Caserta in Campania.

• The vintage, 2003, and the bottler and shipper, Cantine Terra di Lavoro ("Land of Work," an ancient nickname for the region), are provided only on the back label, along with the importer, the alcoholic content (13 percent) and, in the U.S., the mandatory Surgeon General's warning.

It's a lot of information for a bottle of wine, but worth learning. The white grapes of Southern Italy are only recently gaining international attention - Jancis Robinson's grape books give Falanghina the shortest of shrift, and Hugh Johnson's Pocket Wine Book doesn't even give it a separate listing. But they're coming on fast, and if you like rich, structured, food-friendly whites, you'll follow my lead in snapping up any Falanghina you see.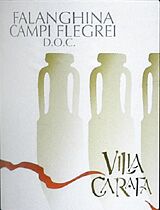 Terra di Lavoro 2003 "Villa Carafa" Campi Flegrei Falanghina ($14)

This clear, straw-color wine shows pretty glints of gold. Its appetizing aroma and flavor profiles are typical Falanghina, floral white fruit with complex hints of almonds and wool, full body held up well by structural acidity, all over a "stony" minerality that - perhaps mostly by the power of suggestion - evokes the volcanic soil of the scenic Amalfi Coast. Well balanced and clean, there's a shot of snappy acidity in the long finish. U.S. importer: North Berkeley Imports, Berkeley, Calif. (July 15, 2005)

FOOD MATCH: Fine with seafood or "white meats," it was brilliant with an Italian-style dish crafted to match: Veal flank steak pounded thin and rolled around an aromatic filling of mushrooms and rich Italian tuna.

VALUE: More than justifies its price point in the middle teens.

WHEN TO DRINK: Meant for immediate enjoyment, it's drinking beautifully now, but its richness and acidic balance hint that it wouldn't suffer from a few years of careful cellaring.

PRONUNCIATION:
Falanghina = "FA-lan-GHEE-nah," with a hard "g" as in "geek."

WEB LINK:
The importer has an article about Terra di Lavoro in its November 2004 newsletter, which is archived online:
http://www.northberkeleyimports.com/new_offerings/nov2004W.htm#carafa

FIND THIS WINE ONLINE:
North Berkeley's wines are available at fine wine stores in many parts of the U.S. and through online sales where the law permits. For information click the "Contact Us" link on the importer's Website,
http://www.northberkeleyimports.com/

You'll also find vendor listings for Villa Carafa Falanghina at Wine-Searcher.com:
http://www.wine-searcher.com/find/Carafa%2bFalanghina/-/-/USD/A?referring_site=WLP





---